𝓑𝓪𝓬𝓴𝓰𝓻𝓸𝓾𝓷𝓭 𝓪𝓷𝓭 𝓗𝓲𝓼𝓽𝓸𝓻𝔂
Larme-kei is a style that is named after the Japanese fashion magazine Larme, meaning "tears" in French. In it you can find page upon page of sweet, girly casual fashion intertwined with elegance and a bit of sexiness. It was established in 2012 as a quarterly magazine, but quickly grew popular. It is now published bi-monthly due to high demand. Models featured by the magazine and associated with the style include Risa Nakamura and Yui Kanno. It holds shared qualities with other styles you may be familiar with; otome-kei, mori girl, and himekaji to name a few.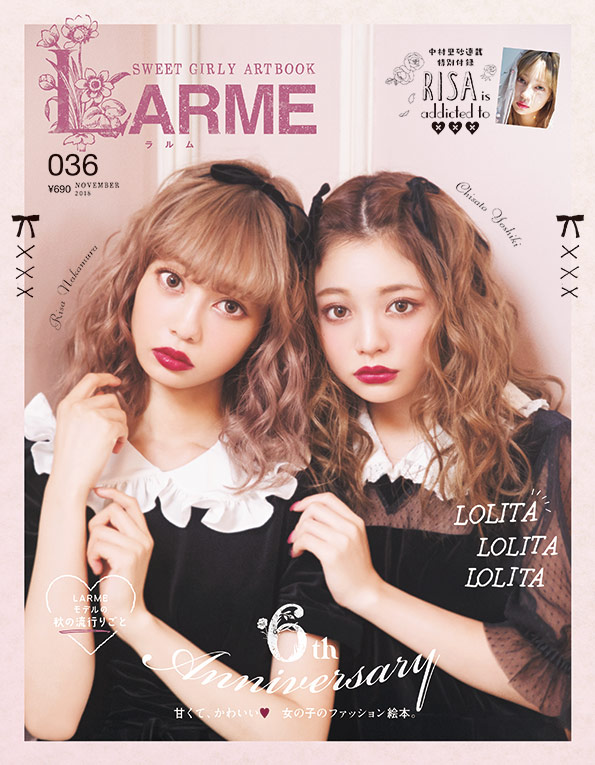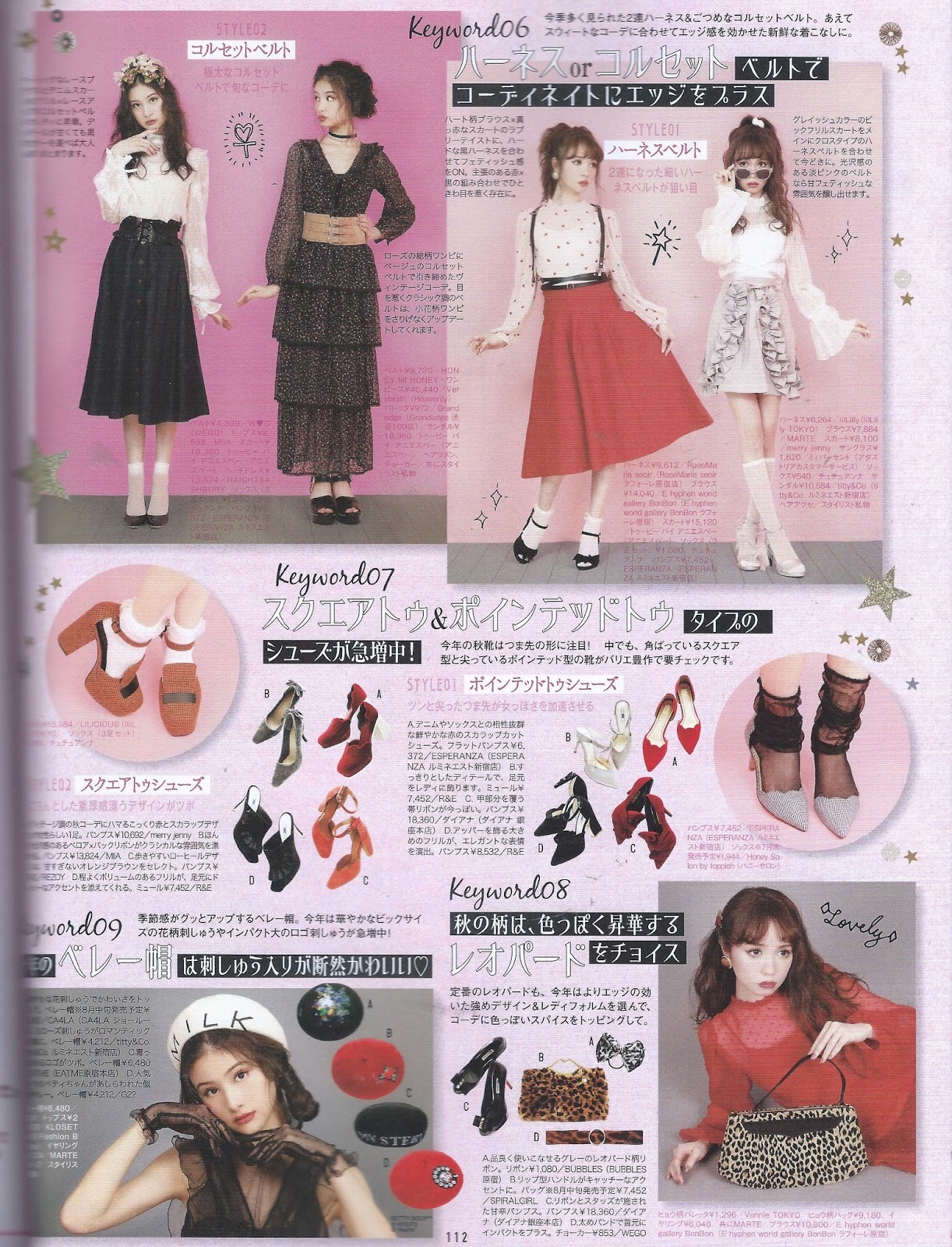 The term "Larme-kei" is largely a western invention. It does not exist in Japan as an established style subculture like Lolita or Decora. Rather, it is just a descriptor of the style found in Larme magazine; which itself bends to changing trends in girly fashion. Because of this, there are no strict rules to follow when dressing in Larme-kei!
𝓡𝓾𝓵𝓮𝓼
Since there are no set "rules," Larme-kei instead has a general aesthetic that can be bent and twisted to the wearer's liking!
Some key aspects of the Larme-kei aesthetic are:


♥ a cute yet mature silhouette
♥ limited color palette and pattern
♥ lace and ribbons
♥ check and gingham
♥ a soft, dreamy overall feeling
♥ cropped, well-fitting tops and highwaisted bottoms
♥ natural makeup with plenty of reds, pinks, and neutrals.
𝓞𝓾𝓽𝓯𝓲𝓽𝓼
Through my observation and experience with the style, i've found some common pieces and themes found in most larme-kei coords.


♥ Cropped, fitted tops.
♥ When a top isn't cropped, it's tucked in to define the waist
♥ Peter-pan collars
♥ Highwaisted trousers/skirts
♥ Skirts are usually A-line, pencil, or peplum
♥ Trousers can be flared or skinny
♥ Plenty of layering
As for materials, you can find a variety of fabrics mixed and matched together to create eye-catching looks!


♥ Denim
♥ Chiffon
♥ Silk
♥ Tweed
♥ Knit
♥ Lace
♥ Velvet

𝓞𝓾𝓽𝓯𝓲𝓽 𝓔𝔁𝓪𝓶𝓹𝓵𝓮𝓼
𝓗𝓪𝓲𝓻𝓼𝓽𝔂𝓵𝓮𝓼
Larme hairstyles can be characterized by loose, flowing curls, pigtails or braids arranged with ribbons, airy bangs, and a tousled but elegant feeling. Like you didn't put too much effort but still came out looking cute, which is a skill in itself. Nevertheless, looks can range from as simple as curling your hair to intricately shaping your braids into hearts!

Hair colors tend to skew natural, towards browns and blacks. Bleached hair is rare, and you likely wont find unnatural colors. Of course these are just trends, and you can have whatever hair color you want (I myself have bleached hair dyed blue with black roots lmao). It really is all about the feeling of the overall look and this includes the hairstyle! Fluffiness is key!!!

Here are some hairstyles featured in Larme and other similar magazines
𝓜𝓪𝓴𝓮-𝓾𝓹
Make up is used to add to the over all look of Larme-kei, and isn't usually the main focus. Looks are natural and toned down. You won't find any bright colors, neons, flashy looks, or heavy foundation. Common colors include browns, reds, and pinks, and usually only one color eyeshadow is put all over the lid with little blending. You can choose to add a bit of glitter for a more glamorous look. The key is to look like you've just finished crying, and many larme looks achieve this by patting on a reddish eyeshadow on the bottom lid. It's called tears for a reason lol.
Eyeliner is commonly applied thinly with little extension. Black eyeliner gives a more dramatic touch, or you can opt for a brown liner to keep with a more natural look. Eyebrows are mostly kept full and natural and in a color that matches your hair.
BB creams and CC creams are preferred over full coverage foundation. Blushes in red and pink are a big part of the look. It's usually applied heavily underneath the eyes and along the cheekbones, again for that just finished crying look. Contouring is pretty much non existant.
Circle lenses add to the dolly look, but aren't required. Eyelashes are usually curled and lengthened just a bit, or natural falsies can be used. For the lips, red and pinks are most common. You can do whatever you want for lips basically.
𝓣𝓾𝓽𝓸𝓻𝓲𝓪𝓵𝓼
for a more in-depth look at larme makeup, check out this blog post from Heartbreak Cherry
𝓑𝓻𝓪𝓷𝓭𝓼
Now, lets go over some brands that carry clothes suited for Larme-kei! My personal favorites will be starred.
Clothing from Japanese brands can be quite expensive and tricky to buy for overseas customers. Thankfully, you can find plenty of them secondhand and cheaper on resale sites! I mostly buy from sellers on Depop, though you can also find them easily on ebay and poshmark. Never underestimate the power of buying used! I've gotten plenty of pieces for way below the original price this way. Buying secondhand is also a great way to keep clothes from ending up thrown away. Reduce waste!
𝓙𝓪𝓹𝓪𝓷

Liz Lisa


Ank Rouge


Honey Cinnamon
Bobon21


Mon Lily
Axes Femme
Katie
Swankiss


Secret Honey
MILK
e hyphen world gallery
𝓦𝓮𝓼𝓽𝓮𝓻𝓷

Bonne Chance Collections


Peiliee Shop


Valfre
Thrift Stores!
𝓡𝓮𝓼𝓸𝓾𝓻𝓬𝓮𝓼
Below are sites where you can delve more in depth with larme-kei. These are also the sources for the information i've written on this page!